5200W Air Rework Station DH 5830 3 Zones BGA Repair Machine with Highly Sensitive Temperature K Type Control Module
Price in reward points: 3453
Brand:

unbranded

Product Code:

CN230811657985

Availability:

90008
5200W Hot Air Rework Station DH 5830 3 Zones BGA Repair Machine with Highly Sensitive Temperature K type Control Module
Feature
1. 3 independent heater, HD touch screen
2. PLC control BGA rework staton
3. Orignal factory
4. Movable top, bottom heater
Specifications
Power

5200W

Top heater

1200W

Bottom heater

1200W, Infrared
2700W

Power supply

AC220V±10%  50Hz

 Dimension

 L500*W600*H650mm

Positioning

V-groove, PCB
support can be adjusted in any direction with external

universal
fixture

Temperature
control

K type
thermocouple, closed loop control, independent heating

Temp accuracy

±. 2 degrees

PCB size

Max 500*400mm
Min 20*20 mm

BGA chip

2*2-80*80mm

Minimum chip
spacing

0.15mm

External
Temperature Sensor

1(optional)

G,W

62kg
Applications
1. Embedded industrial control computer, high-definition touch screen man-machine interface, heating temperature, time, slope, cooling, and vacuum are all set on the man-machine interface
Setting, real-time display of setting and measured temperature curve, and instant curve analysis function, real-time analysis and correction of the curve;
2. A total of three temperature zones up and down are independently heated, and the upper and lower temperature zones can be set with 8 temperature control, and the three temperature zones use independent PID algorithms to control heating
The process ensures that different temperature zones can achieve the best welding effect synchronously. Large preheating temperature zone, PCB preheating is balanced and not deformed;
3. It can store 9999 groups of temperature curves, which can be recalled at any time according to different BGAs. Curve analysis, setting and correction can also be performed on the touch screen.
And there are Chinese and English interfaces to choose from, which is convenient for domestic and foreign customers to use without barriers;
4. The high-precision K-type thermocouple closed-loop control and temperature automatic compensation system realizes precise temperature control and keeps the temperature deviation within ±2 degrees.
When the external temperature measurement interface realizes the precise detection of temperature, and the accurate analysis and proofreading of the actual temperature curve;
5. PCB board positioning adopts V-shaped groove, equipped with laser positioning red dot to guide PCB rapid positioning; flexible and convenient movable universal fixture pair
The PCB board plays a protective role, prevents damage to the edge of the PCB and PCB deformation, and can meet the positioning of various PCB boards of different sizes;
6. It has double password protection to prevent programs and parameters from being arbitrarily modified or accidentally deleted, and has superior security protection functions;
7. Equipped with a variety of alloy nozzles, which can be rotated and positioned at 360 degrees, easy to install and replace;
8. After the upper and lower hot air stops heating, the cooling system automatically starts, and the high-power cross-flow fan quickly cools the PCB board to prevent the PCB board from deforming.
When the temperature drops to normal temperature, the cooling system will automatically stop, to ensure that the machine will not age after the heat rises, and effectively extend the service life of the equipment;
9. Built-in vacuum pump, no external air source is needed, it can be used by plugging in the power supply directly at any place, not limited by air source, external vacuum suction pen,
Convenient and quick access to BGA chips;
10. With a USB interface, it is convenient to download the current graph to the U disk for storage, and it can be used by plugging in a mouse to extend the use time of the touch screen;
11. Configure the voice-activated "early alarm" function. 5-10 seconds before the completion of disassembly and welding, the operator will be warned by voice to make relevant preparations;
12. After CE certification, it is equipped with emergency stop switch and automatic power-off protection device for sudden accidents. In the case of temperature out of control, the circuit can automatically power off.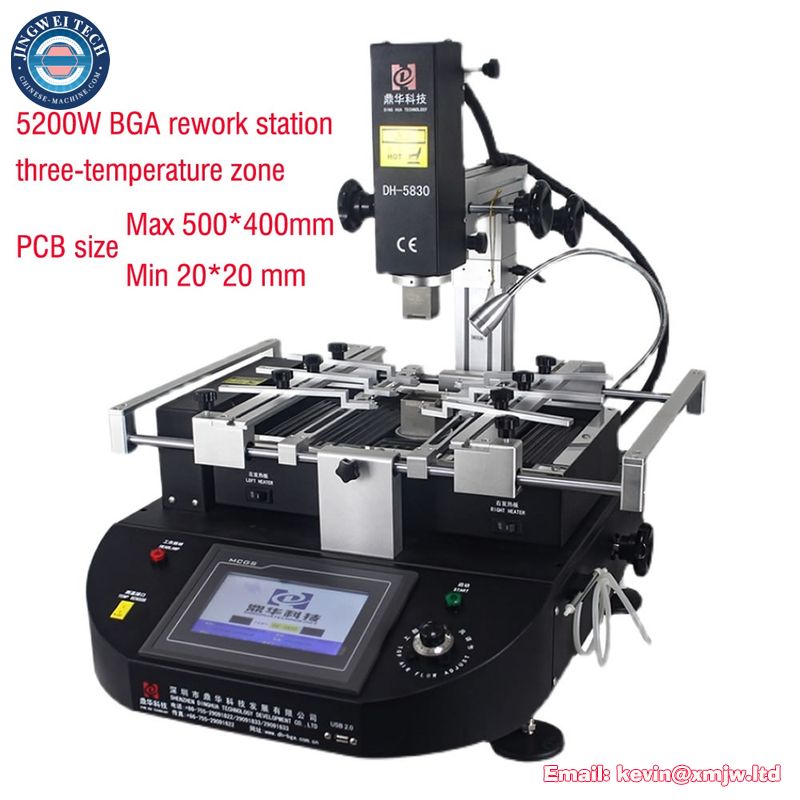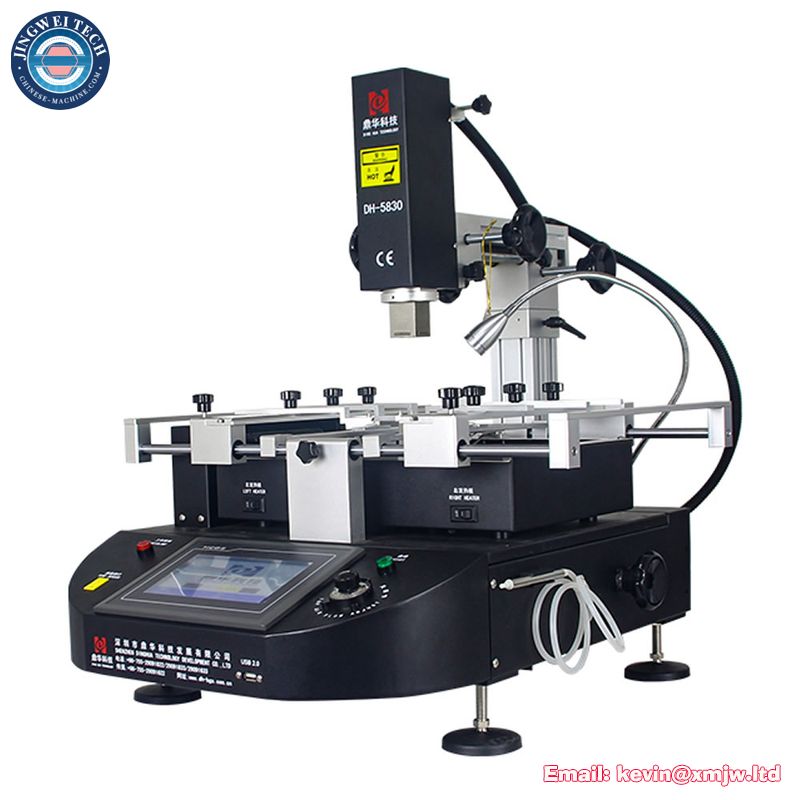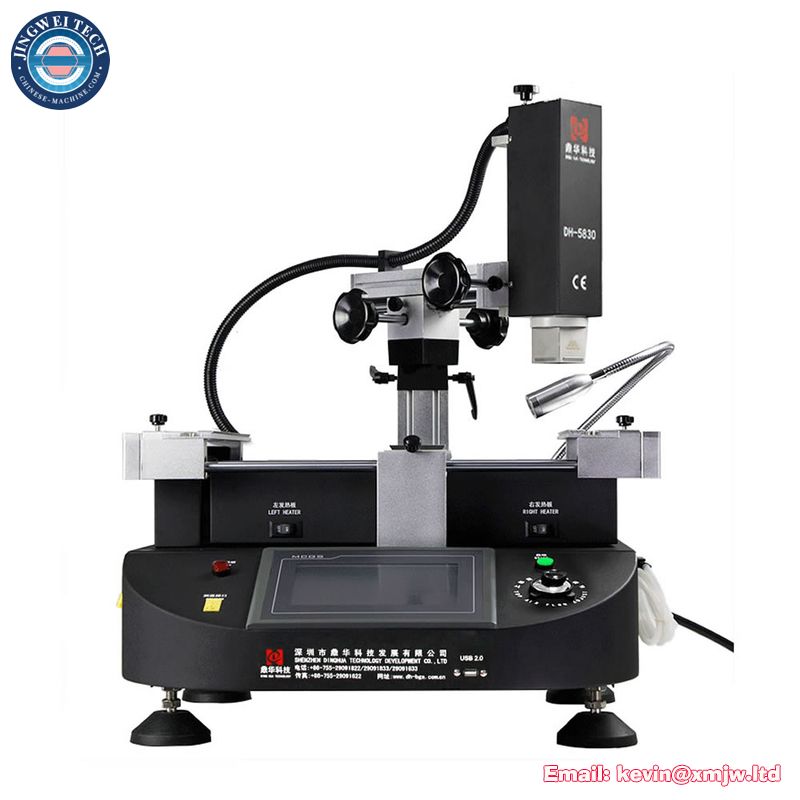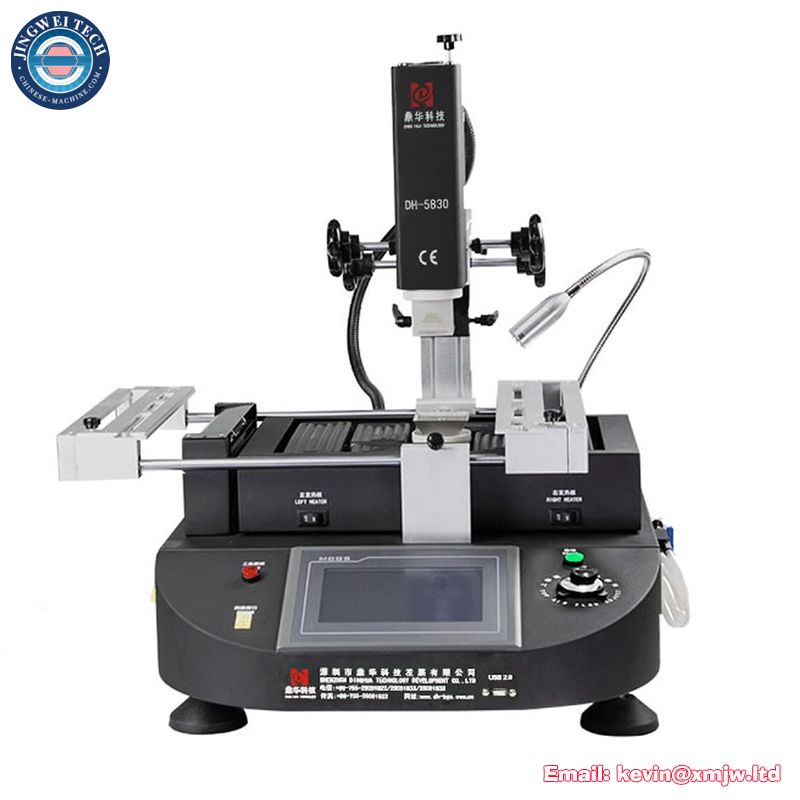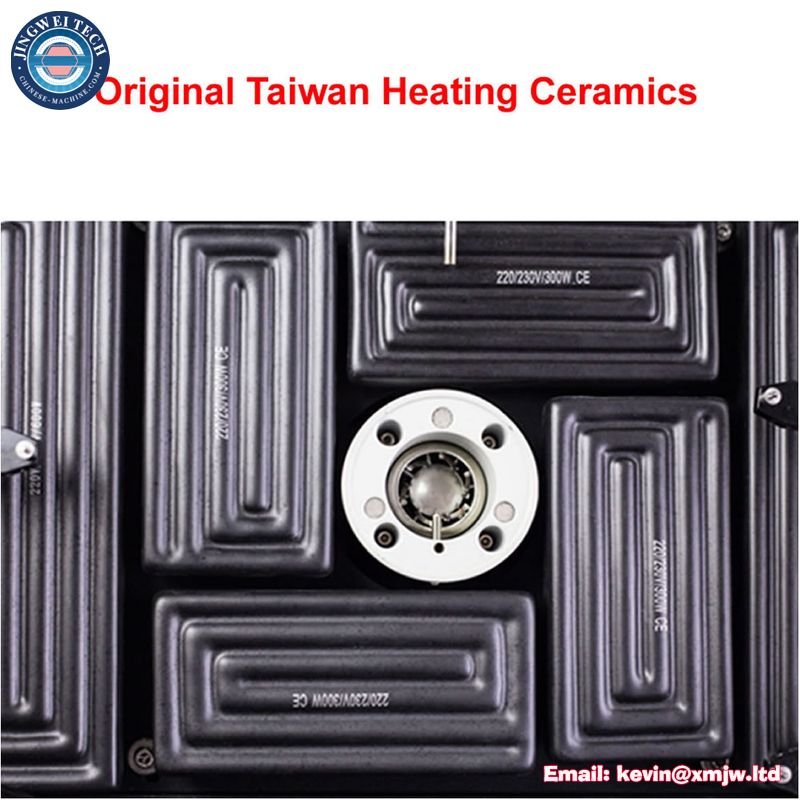 BGA chip
2*2-80*80mm
Bottom heater
1200W;Infrared 2700W
Certification
CE;FCC
Dimension
L500*W600*H650mm
is_customized
Yes
Minimum chip spacing
0.15mm
Model
DH 5830
Model Number
Hot Air Rework Station
Origin
Mainland China
PCB size
Max 500*400mm Min 20*20 mm
Power
5200W
Power supply
AC220V±10% 50Hz
Temperature control
K type thermocouple;closed loop control;independent heating
Top heater
1200W
Tags: 5200W Air Rework Station DH 5830 3 Zones BGA Repair Machine, with Highly Sensitive Temperature K Type Control Module